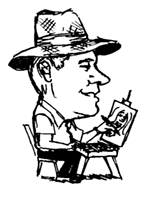 Bruce W. Norris
Bruce W. Norris
Bruce W. Norris
Bruce W. Norris
Bruce W. Norris
Bruce has done cartoon strips such as the ones below for a number of newspapers, such as, "The Island Reporter", "The St. Petersburg Post", "The Sand Key Sun", "Orlando Tribune", "The Clearwater Chronicle" and "The Tampa Bay Sun".
Here are some of the latest cartoon strips from the pen of Bruce Norris:
These strips are from the "Sand Key Sun"...


Artwork © Bruce W Norris, all rights reserved.
Website © Robert Orr Designs - all rights reserved. contact: bobbyorr2@yahoo.com

Bruce W. Norris